Hrithwik
 • 
 • 
3 min read
Basic Guide to Deep Link YouTube Videos on TikTok
Open YouTube App From Tiktok
Introduction
Are you looking for a way to enhance your reach on TikTok? Deep linking YouTube videos on TikTok can be a powerful tool in your content creation arsenal. In this article, we will explore the simple steps to deep link YouTube videos on TikTok, and how it can help you reach a wider audience on both platforms. Follow our guide to learn how to deep link videos, promote your content, and analyze your performance. With the right strategy and execution, you can take your TikTok game to the next level.
Brief overview of deep linking
Deep linking is a technique that enables linking to a specific piece of content within an app or website. In the case of YouTube, When users click a deep link on Tiktok, the YouTube app opens directly, bypassing TikTok's slow browser.
Importance of deep linking YouTube videos on TikTok
Every Link you open on Tiktok opens in it's own browser and there is no way to get out of it.
Deep linking is essential for creators and brands sharing YouTube links on TikTok, as it increases user engagement, subscriptions, and ad views, which is not possible in TikTok's built-in browser.
TikTok's browser also contains tracking codes, posing potential risks. Deep linking offers a secure alternative. (source)
Uploading your video to YouTube
Follow the usual way to upload your video to youtube and copy your youtube link.
Setting up your TapTheLink Account
Head over to tapthe.link and create an account using your Google Account.
Paste the Copied YouTube Link on the website and click on "Get a tapthelink" Button.
Add a Custom Slug and Tags (Optional)
Additionally, while creating deep links, you can customize your link by adding a custom slug, which makes the link appear as desired.
Tags enable you to filter links when searching for specific ones on your dashboard. You can add multiple tags to a single link, for example: YouTube, Podcast.
After adding these things, click on Get a tapthelink.
Congratulations, you have created your first ever deep link. Click on Copy Link
Change the Bio Link on Tiktok
Headover to Tiktok and edit your profile to change your website to the new deep link you just created. Here is a step by step guide
Click on Edit Profile
Click on Add your website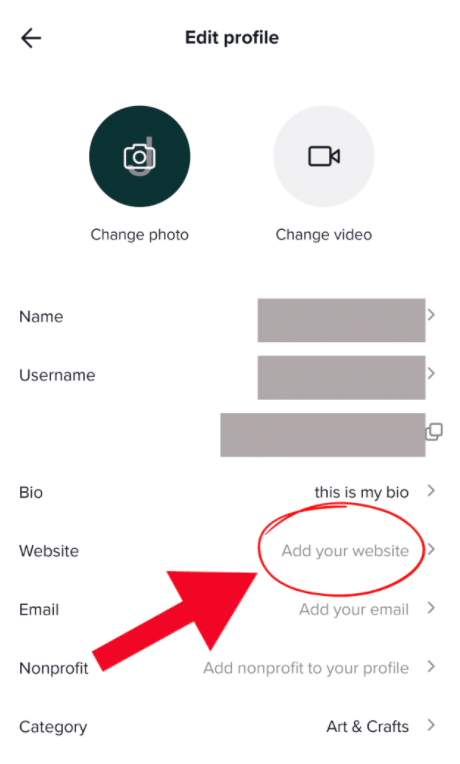 Add your deep link and click on Save.
You can now see your Deep Link in your Bio
Promoting your Deeplinks
If you are a brand or business, it is highly recommended to utilize deep links in your advertising campaigns across various social media platforms such as TikTok, Facebook, and Instagram.
By doing so, you can effectively drive user engagement and increase the visibility of your content.
Measure Clicks and Get Insights.
Click on View More Button on the home screen.
Search and Fliter for the Link you want to get Insights for
Get Detailed Analytics on where the clicks originated from
Conclusion
We know the importance of Deep Linking on Tiktok, How to create a deep link for youtube and how it can help you. You can not just create Deep Links for YouTube but also can create it for Amazon and Apple Music too. Read more about Deep Linking on our Blog