Hrithwik
 • 
 • 
2 min read
Secret Trick to Increase Amazon Affiliate Earnings in 2022
Secret Trick No one tells you about maximising Affiliate Earnings on Amazon
Amazon's affiliate program is the biggest online, and I'm sure you've all heard about it. But did you know there are a number of ways to enhance those links for more revenue?
What Are Amazon Affiliate Links?
Amazon Affiliate Links help Creators earn a part of the sale if their audience buys through their link.
Almost every Tech and Fashion Creators have it in their Video Descriptions.
But, there is a problem, recently YouTube started opening every link from the video description in its own in-app browser just like Facebook and Instagram.
Why are In-App Browsers a Problem For Affiliate Links?
Here are the two main problems with in-app browsers,
Most of the users are not signed in to Amazon and they don't have cards saved on a browser

The User experience on in-app browsers is not that smooth compared to an app.
Apps were designed to make Conversion Rates and User Experience to be better than traditional websites. This is very important, especially in E-Commerce apps like Amazon.
How can this be a problem for Amazon Affiliate Marketers?
The chances that people buy the product and stay on the product page is very low because of in-app browsers. Amazon only pays you when you can get your viewers to browse more and buy more.
What's the solution? How can you make more money with Amazon Affiliate Links?
There is this concept called Deep Linking, which magically bypasses the in-app browser on Mobile Phones, taking potential buyers directly to the Amazon App.
It's this simple to create a deep link, let me show you
Get your Affiliate Link from Amazon

Visit Tapthe.link and Paste your Amazon Affiliate Link

Share the deep link with your audience.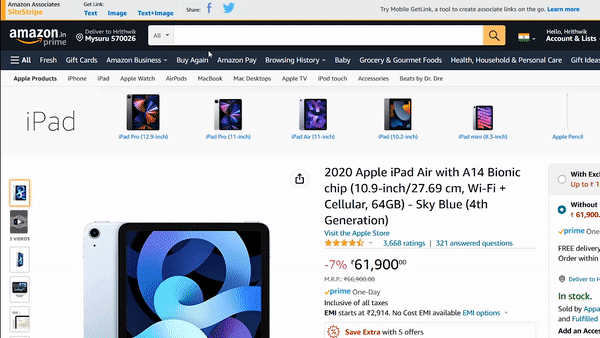 This keeps your Affiliate Link Intact behind the scenes and still takes your audience directly to the Amazon app. If it's not installed then it takes them to the browser.
So remember, Instead of sharing affiliate links directly on your Tiktok Bio or YouTube Description, use links generated by tapthe.link.
How can deep linking to Amazon App help you make more money/conversions on Amazon?
Deeplinking increases the conversation rate by 2-3X because most of them are signed in and have their cards saved on Amazon plus it's a buttery smooth experience on the app.